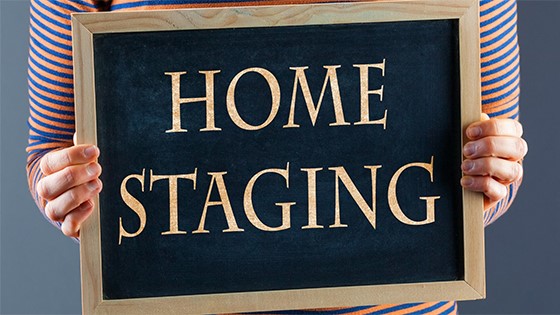 Two rules apply when selling a house: improving your home's look through value addition and putting a reasonable price tag on it. If you have sold a home before, you know home buyers are flooded with a myriad of options, and so, to arouse buyers' attention, you must emphasize the need for home staging.
According to the National Association of Realtors, 62% of home vendors agree that the value of home staging diminishes as soon as a home is put on sale. On the other hand, 44% of buyer agents concur that home staging increases the value of a home by 10%.
Nevertheless, real estate experts agree that home staging does play a vital role in increasing the value of a home, and if done the right way, a home seller can make some good profit in the short-run.
Check out the following quick staging tips for a faster home sale.
Declutter Everything
Get rid of everything that prevent buyers from seeing the value of your home. If you are not able to purge your home prior to selling it, ensure everything is in order- the closets are organized well, and all the surfaces are bright. Keep in mind; you want your home to look big and not cluttered.
The biggest thing to keep in mind here is that you are going to be moving anyway. That means the stuff in the house is going to have to leave regardless. Think of this as just getting a head start on the process. Rent a storage unit for a month (which some places offer free for the first month) and move all your stuff there temporarily.
Upgrade the Entry of Your Home
The first impression matters a lot. So, spruce the front porch. Add a few potted plants and a doormat. You can also light the entryway. Add a fresh coat of paint.
Rearrange Furniture
A little adjustment on your furniture goes a long way. Arrange your furniture symmetrically and introduce a conversation area. If you have enough space, use one room as a usable space. Make it an office or a guest room so that potential leads can see the power of the place. Another key thing to keep in mind when rearranging furniture is you want the rooms in the house to look bigger. To do this you wan to use small pieces of furniture. For example: You could replace a king size bed with a twin size. That would make the room look much bigger.
Thorough Cleaning
Your house must look sparkling clean. If you have a lot of coverage to make, consider hiring a professional to clean your home. You will appreciate the investment when potential leads convert.
This could be one of the most important tips of all. Really take the time to give the house thorough cleaning. If you don't want to do it yourself then you could hire a professional cleaning service to do it for less than $100.
Change the Bathroom Towels
Swap out old towels with luxurious fluffy white towels. Do the same with old sheets and linens- replace them with clean, plush bedding. You should never underestimate the effects of these tiny adjustments on your bedroom and bathroom. Finding the perfect buyer could be as easy as improving the aesthetics of your bedroom and bathroom.
Reduce Odors
Before showing your home to anyone, remove odor in carpets and furniture. Pour baking soda on these areas and let it sit for about ten minutes before you vacuum clean them. Boil cinnamon sticks in water for about 60 minutes to introduce a sweet aroma to the home.
Another quick way to make the house smell good is have a can of some Febreze air spray handy. Then as soon as a visitor is coming to view your house give it a quick spray around the house to make it smell good. Be careful not to overdo it and give it at least 30 minutes before people arrive so it is not so strong.
Depersonalize
Real estate experts say homeowners should remove things such as family photos, political or celebrity fanfare. For example, if you have a picture of a Democrat leader and a potential buyer is a Republican, they might be reluctant to live in your home as readily.
Most families are hesitant to remove their family pictures because they are very proud of them, however you should still take them down. The reason is people are trying to visualize themselves living in your house and if they see a picture of your family it will start to kill their visualization and potentially make them feel like it is not their house (even if it is on a subconscious level).
Construct Your Stainless-Steel Paneling
A lot of appliances go in and out of fashion more often than many people can keep up with. However, if you have outdated material in your home, do not be distressed. You can change such a piece into a modern fixture, with a little bit of elbow grease. To do this, clean the front area of each appliance and generously put a stick-on stainless-steel film cover. Adjust the film accordingly, and you are good to go.
Take Advantage of The Awkward Spaces
The little tiny space under the stairs has been a perfect hideout for unused junk, yet it might be a crucial selling point for potential buyers who are imagining their lives in your home. Take advantage of such spaces and make them a tiny office space or reading nook. Alternatively, you can install built-in shelves as they always top the buyers want lists.
Finishing Matters
Finish your staging with fresh flowers, live plants or fruits in bowls. Also, ensure the thermostat is at a conducive temperature and allow the buyers to feel at comfortable in your staged home. Put a fresh bag of mulch on top of the old stuff to make it look fresh and clean.
Putting it all together
Home staging involves thorough preparation and presentation, with an aim to sell a home as quickly as possible. Decluttering and removing dust are some of the critical adjustments to ensuring your home commands attention from potential buyers. However, the primary goal is to show off your house and not collectible or furnishings.
If you want 5 more powerful tips to selling your home quickly then check out this article written by a top producing real estate agent in Alanton, Virginia Beach.
Additionally, when you are looking for your new home to purchase you should check out these list of mistakes to avoid when purchasing a home by going here.
Article Written By:
Top Producers Real Estate
600 22nd Street, Suite 101
Virginia Beach, VA 23454
(757) 493-1582