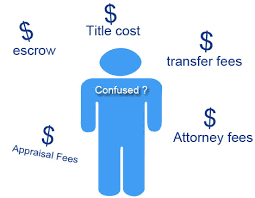 OK, you've zeroed in on the home of your dreams, both you and the seller have agreed upon the price, costing costs and your home loan has been approved. You now feel as though you may are now ready to move into the home of your dreams. However, not so fast my friend the process is not yet completed. There is still a little thing I like to call closing and its associated costs which is left. Here we will look at buyers closing costs in Ocala FL as you will typically encounter across Central Florida and beyond.
So what exactly are Closing Costs for Buyers in Central Florida?
The typically closing costs for buyers in Ocala FL, are associated with the process of passing on ownership of the property from the seller to the buyer. Remember seller paid closing costs to me the agent. This process involves signing numerous documents while also paying up all kinds of fees that could include:
Loan Discount Fees – In case you opt for lowering your loan interest rate by purchasing points, you will be paying loan discount fees, which is typically one time, based on the number of points you purchase.
Credit Report Fees – These fees are meant to cover costs of the credit report sought by lenders when you apply for a loan from them. Often these fees are sought when you apply for the loan so they may not be part of closing costs.
Appraisal Fees – As the name suggests, these are fees applicable when the property is due for appraisal. Again, like credit report fees, appraisal fees may be paid when you apply for a loan and not necessarily as a part of closing costs.
Title Insurance Fees – These are various fees associated with the title of the property including title search, title insurance, preparation of various documents, and a variety of other fees associated with titles.
Prepaid Interest Fee – There will be a time lag between the period when you purchase your home and when your first mortgage payment is actually due. This prepaid interest fee will account for that. Usually, it is best to buy a property towards the end of the month when this particular fee will be the lowest as opposed to at the beginning of the month when it would be the highest.
Escrow Accounts – There are some places where escrow accounts are the norm, which hold various future expenses such as insurance premiums or property taxes. Funding of these escrow accounts would be a part of closing costs.
Loan Origination Fee – This fee covers the cost of loan processing for the lender, which is usually 1 percent of the entire mortgage amount.
Help get sellers to pay for buyers closing costs
There can be various other fees/expenses included in buyer closing costs. As your professional real estate agent in Ocala Florida we will guide you on these fees so that while paying the lowest fees possible, you are able to close the deal and be ready to move into your new home. When you get to the end you will see that seller closing costs includes my fees. For first time home buyers we always aim to getting the seller to pay your closing cost, but there are some cases where you can use the Florida bond program for down payment assistance.
Also remember that in many cases the closing costs the sellers pay most, or all of these fees. Again, it is about how well you are able to negotiate with the seller, a process in which any professional real estate agent will be able to assist you offer you assistance. If you are interested in buying a home read our guide. Most future home buyers start by searching Marion County MLS Listings or if you are ready to buy a home. Our realtors are waiting to hear from you, contact us to start the process!