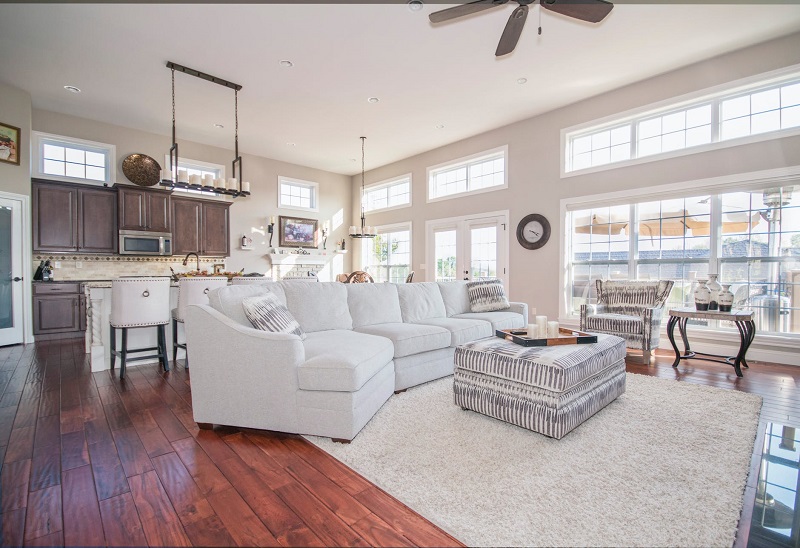 'Visitability' is a hot term in new builds this year, with homes increasingly being seen as a place to gather with family and friends, rather than just a spot to rest or enjoy a little 'me time'. Indeed, connection would have to be the zeitgeist of the current millennium, with around 20% of homes being multi-generational and many companies offering multigenerational floor plans in various communities in Florida. Indeed, real estate professionals in this state have noted the rise of 'casitas' - homes in which one entire level or an adjoining part of the home is resided in by younger or older family members. As we enter a new era of community, the construction and design industries are responding with features that make home life more appealing, comfortable, and stylish than ever before.
Open Floor Plans Hold Sway
The National Association of Home Builders has found that the kitchen is the room that Americans remodel the most. This is the case for three reasons. Firstly, open spaces allow for more natural light to enter the kitchen, increasing the appeal factor of cooking/preparing meals. Secondly, open floor plans encourage connections between dwellers, with the kitchen's central island forming the perfect spot for meeting and greeting. Miami firm 57 Ocean notes that the beauty of open spaces is that they encourage communication in a natural, flowing manner. Finally, connecting the kitchen up with the rest of the living area allows for uniformity of design. Thus, kitchens can pick up on colors and accents in the living space through the selection of materials, colors, and décor accents.
Life Outside
Reconnecting with the world outside is a big driver in modern construction. The American love for nature will be more visible in interiors (through the choice of natural wood, stone, and rock materials) but also in gardens and terraces, where so many people enjoying spending time, catching a few rays, or enjoying a meal. Glass enclosed terraces with floor-to-ceiling windows or doors that open out into the garden enable dwellers to enjoy an outdoorsy feeling even in the winter. During the summer, savvy homeowners are relying in electronic pergolas, which move in line with the sun's rays and can easily be programmed to let as much light in as you wish.
Sunlit Gyms
Just a decade ago, home gyms were usually built on a lower floor, to avail of spaces such as an unused basement. Today, millennial athletes are demanding natural lighting, leading to the construction of exterior gyms that work very well indeed when they are placed close to a pool or Jacuzzi area. As is the case with outdoor terraces, glass predominates in outdoor working spaces, to ensure temperature control while making the most of the sunniest hours of the day.
Modern Bathrooms
Americans are investing money in bathrooms, installing features like standing baths, walk-in showers, and large-size windows for enhanced ventilation and lighting. Elements like stone and marble on flooring and cabinets make for sleek, luxurious bathrooms that have an almost spa-like feel. High-end homes are beginning to embrace new health trends, by bringing saunas and/or whirlpool baths into a space that was once merely used to take a quick shower.
It's all about making the most of the sun and the beauty of nature in the 21st century. Clean, open floor plans free the mind and encourage movement. Finally, open living makes for more communication - something many would agree is highly beneficial to a happy life.